The Curlers' Forum...
Enter your comments, opinions.. whatever..
YOUR OPINION PLEASE re PAYMENTS
I thought that you might be interested in these photos..The one with the men was taken in 1929 having received a Burnstein trophy.(??).One of the men is my Grandfather Victor Mann ,, the other is Alex Darou.. the other two I don't know
a little background----- When I retired in 2002 , I began curling with the afternoon.ladies and was placed on a team with others that I didn't know ,, including Ruth Crispell who had just retired and moved back to the Soo from southern Ontario .Ruth and I struck up a friendship .Sometime during the winter I was at her house and noticed this old photo on the wall..I found out that Alex Darou was her Grandfather and that our Grandfathers had curled together..Here it was many years later with their grandaughters being randomly placed together on the same curling team..
This year Ruth's cousin, Vivian Shuttleworth joined our team with Ann Paradis as our skip..The second photo was taken this past January at our curling club during the ladies bonspeil..The theme was curling fashions through the ages..WE decided to dress up as our grandfathers and pose in the same positions.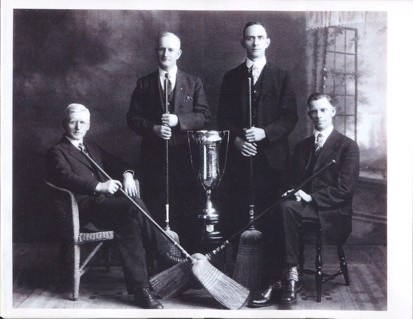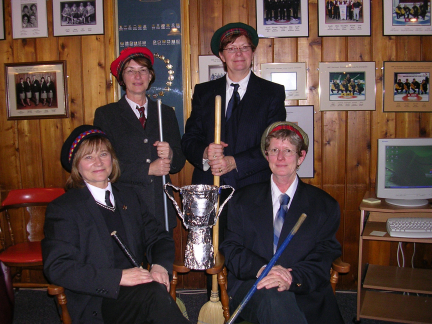 8 ENDER SCORED
Classic League
April 3 2007
1st end
Peter Zultek, Chuck Vernelli, Bill Kerr, Wayne Johns